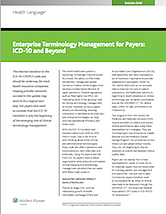 As a payer, are you prepared for the ICD-10 transition? This will only be the beginning of the emerging role of clinical terminology management for you.
This white paper will discuss:
The future of payer operations
How industry drivers impact data strategies
Benefits of normalization
A holistic view of standardizing medical terminologies across a payer organization
How payers will take the lead in clinical terminology normalization and management
To access the white paper, please fill out the form to the right.