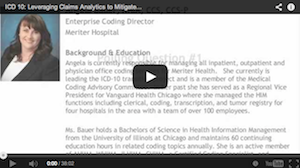 Are you concerned about the financial risks associated with the implementation of ICD-10? It's important to leverage claims analytics to mitigate these risks.
In this webinar, you'll learn how Meriter Hospital leveraged claims to:
Prioritize limited resources by identifying claims that had ICD-10 risk
Mitigate a DRG shift through CDI and dual coding
Pull contracts for a specific service line and open contract discussions with payers
To access the webinar, please fill out the form to the right.