Case Study: Reference Data Management Delivers Data Governance Goals at a 2M+ Member Health Plan
End-to-end Content Strategy Streamlines Data Governance with RDM
A 2M+ member health plan is paving the way in the industry by deploying the Health Language Reference Data Management (RDM) solution. As part of a data governance initiative (focused on managing enterprise code sets) the health plan was able to automate tasks previously managed in spreadsheets.
Among the health plan's data governance objectives, was to design and implement a process for improving the turnaround time of code group updates to minimize financial exposure, improve accuracy, and ensure compliance with service level agreements.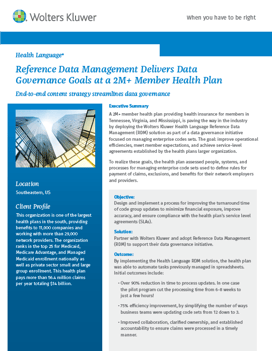 Initial outcomes post implementation included:
Over 90% reduction in time to process updates.
75% efficiency improvement, by simplifying the number of ways business teams were updating code sets.
Improved collaboration, clarified ownership, and established accountability through a data governance framework that helped ensure claims were processed in a timely manner.
Read the case study to understand how they assessed people, systems, and processes to design a program using reference data management that simplified data governance and improved results.
Fill out the form to download the whitepaper.