Enterprise-wide management of code groups, also known as value sets, will be a requirement for organizations that embrace forward-thinking initiatives such as Accountable Care, Health Information Exchange, and Population Health and Analytics. Watch this webinar as we discuss the key challenges with managing code groups (including sensitivity codes) within today's healthcare environment.
Key Learning Objectives:
Identify challenges with managing code groups, including the spreadsheet chaos
Review common use cases for code groups including sensitivity codes
Discuss the benefits of centralizing access, authoring, and maintenance of code groups across your enterprise
Dan Exley, Executive Director, Data Strategy and Reporting at MemorialCare, discusses how code groups are used at MemorialCare for cohort identification in population health management and analytics, quality measures for Meaningful Use, and local measures for internal reporting and analytics programs.
Dr. Barbara Antuna, Medical Informatics Specialist at Health Language, reviews clinicial examples of code groups. Sarah Bryan discusses the benefits of a code group management solution and how to maintain current, approved, up-to-date content for your organization.
Featured presenters: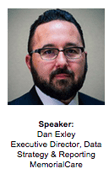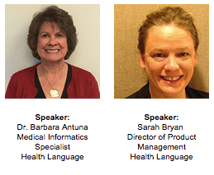 To access the webinar, please fill out the form to the right.