What are Code Groups?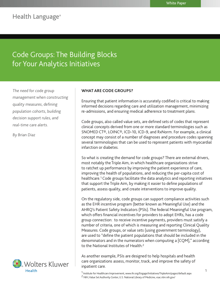 Ensuring that patient information is accurately codified is critical to making informed decisions regarding care and utilization management, minimizing re-admissions, and ensuring medical adherence to treatment plans.
Code groups, also called value sets, are defined sets of codes that represent clinical concepts derived from one or more standard terminologies such as SNOMED CT®, LOINC®, ICD-10, ICD-9, and RxNorm.
In this white paper, we'll cover the key challenges with managing code groups within today's healthcare environment, which include:
Dealing with the Spreadsheet Chaos
How Hard-Coded Business Rules Reduce Agility
The Lack of a Single Source of Truth for Value Sets
Download the white paper to learn the benefits of an enterprise terminology approach to managing code groups.
To download the white paper, please fill out the form to the right.