Are You Attempting to Close the Gap Between Lab Orders and Lab Results?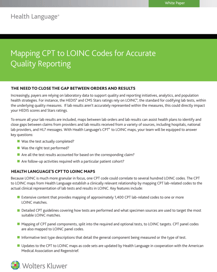 Increasingly, payers are relying on laboratory data to support quality and reporting initiatives, analytics, and population health strategies. Maps between lab orders and lab results can assist health plans to identify and close gaps between claims from providers and lab results received from a variety of sources including hospitals, national lab providers, and HL7 messages.
In this white paper, you will learn:
The importance of supporting your quality reporting programs like HEDIS and Stars ratings
Why mapping between CPT-based claims data and LOINC can equip your team to answer key business questions
The benefits to Health Language's mapping approach between CPT and LOINC
With real-examples, you'll see why combining claims and clinical data is important ensuring accuracy with your quality reporting programs.
To download the white paper, please fill out the form to the right.