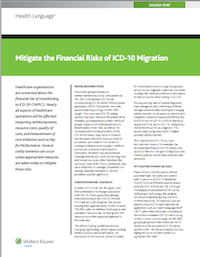 Are you concerned about the financial risks associated with the transition to ICD-10-CM/PCS? It's time to take appropriate measures to mitigate these risks.
This white paper will discuss:
Reimbursement risk
Changes associated with ICD-10
Financial risk mitigation
MS-DRG shift examples
How to establish a plan for your company post-ICD-10
To download the white paper, please fill out the form to your right.