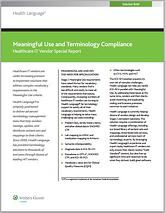 Are you under increasing pressure to meet the Meaningful Use criteria? In order to do so, you'll need to implement solutions that address complex vocabulary requirements.
This white paper will discuss:
The need for specialization in the relationship between Meaningful Use and HIT
An overview of Meaningful Use terminology criteria
Solutions to your Meaningful Use terminology needs
To download this white paper, please fill out the form to the right.