Q&A: Data Brings Challenges and Opportunities to Payers
Published by Health Data Management
As the healthcare industry moves toward value-based care, payers are increasingly concerned with clinical outcomes.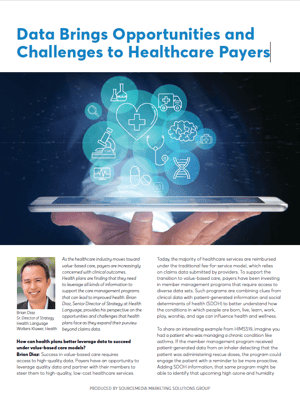 Health plans have an opportunity to leverage quality data to support care management programs that can lead to improved health, and to partner with their members to steer them to high-quality, low-cost healthcare services.
To support the transition to value-based care, payers have been accessing real-time clinical data to leverage their value-based agreements, and have been investing in member management programs that require access to diverse data sets, so they can get a 360-degree view of members and combine programs with quality and reporting programs to close gaps in care. Yet payers experience three big challenges when trying to leverage their data.
Read the Q&A to learn how payers are establishing a single source of truth for standards and addressing interoperability challenges associated with using more diverse data so they can achieve their goals around improving clinical outcomes, improving patient experiences, reducing healthcare spending for cohorts.
Fill out the form to download the article.
Author: Brian Diaz Ι Sr. Director of Strategy
Brian is responsible for business strategy, research and go-to-market programs for Health Language. Brian has over 17+ years of leading product, marketing, and engineering teams within medical device and SaaS-based technology companies and has a computer engineering degree with the University of Minnesota.